Share feedback
Thanks for sharing your feedback!
This page contains frequently asked questions about billing within LimaCharlie.
Pricing Details
Please note that our pricing is transparent, and is available via our Pricing webpage.
How can I change my quota/upgrade to the paid tier?
When you sign up for the LimaCharlie account, you will automatically be on a free tier, allowing you to create two organizations with two sensors each. All add-ons and additional services are free on this tier.
To upgrade to paid tier, simply navigate to the Setup section of the organization you are looking to upgrade and perform the following actions:
Ensure you have a payment method on file by clicking the Billing & Usage tab.
In the Billing & Usage tab, set the quota number you would like and click Update Quota. Quota is the number of sensors concurrently online you would like to support.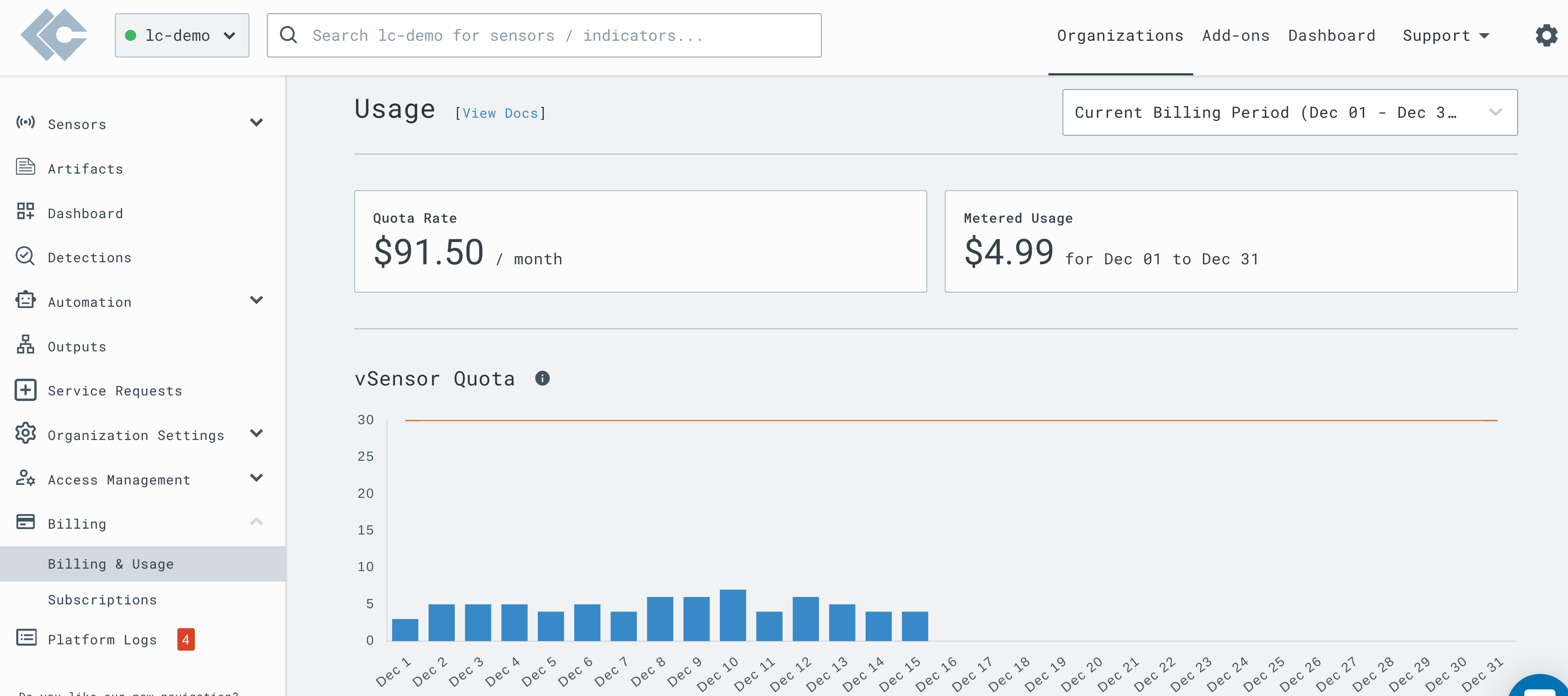 What is the cost of deploying payloads via LimaCharlie?
Payload pricing is provided via our pricing page. For example, assume deploying Payloads via LimaCharlie costs $0.19 per 1 GB of data sent. A 1GB payload sent to 10 endpoints will cost $1.9 (10GBs x $0.19).
This only impacts organizations that leverage Payloads functionality, as well as Atomic Red Team and Dumper services (they are running as Payloads in LC).
To understand the impact on your organization, check the Metered Usage section of the Billing page. You will notice the new "Payload Data Sent" metric along with the size of payloads deployed and price.

What is usage-based billing?
Along with our predictable per endpoint pricing model, LimaCharlie offers a pure usage-based billing model for our Endpoint Detection & Response (EDR) capability. Pricing within this model is calculated solely on the time the sensor is connected, events processed, and events stored. You can find more information about our billing options here.
We acknowledge that some might not need the entirety of available components all the time, and might benefit from having access to an endpoint agent on an ad-hoc basis. This approach enables the following:
Incident responders will now be able to offer pre-deployments to their customers at almost zero cost. That is, they can deploy across an organization's entire fleet and lay dormant in sleeper mode. With agents deployed ahead of an incident, responders can offer competitive SLA's.
Product developers can take advantage of usage-based billing to leverage narrow bands of functionality at a low cost. This means getting the functionality they need without building it from the ground up or paying for a full EDR deployment.
How do I switch from usage-based billing to per-endpoint billing?
Please contact us in Slack or via any other channel to switch from the usage-based billing to the regular (per-endpoint) billing. The requestor will just need to have billing permission on the org.
Billing change requests are typically handled within one or two business days.
For LC Adapters billed on usage, what does "block of data" mean & how will it impact the price I pay?
Some LimaCharlie Adapters are billed based on usage. Updated pricing details can be found on our pricing page.
For example, assume $0.15 per block of data of 1 GB (on the organizational level). This means that 10 adapters with less than 1 GB (total) in the same organization will be $0.15 total for that month.
How do I determine how much I need to pay for an org if it was in usage-based billing mode?
If the organization you are trying to assess has 1-year telemetry retention enabled, you could use the stats API to see the number of events retained:
https://api.limacharlie.io/v1/usage/OID
or
https://api.limacharlie.io/static/swagger/#/Organizations/getOrgUsageStats
You will want to check the sensor_events and sensor_retained values.
How is the price of sensors & add-ons calculated in LimaCharlie?
There are two categories of Sensors: sensors billed on Quota set by the user (vSensor basis) and sensors billed on usage basis.
vSensors
LimaCharlie has the concept of a vSensor. A vSensor is a virtual sensor used for the purpose of setting up quota and billing. vSensor pricing matches that listed on our pricing page, and includes a year of full telemetry storage.
Our transparent pricing and quota-based approach allows you to easily mix and match deployments, while staying within a certain price point.
For example, assume each vSensor costs $2.50 USD. If you set the quota to 100 vSensors, you can have concurrently:
50 Windows Sensors + 50 Linux Sensors, OR
20 Windows Sensors + 30 Linux Sensors + 50 macOS Sensors, OR
100 macOS Sensors
Or any other combination as long as the total number of sensors does not exceed the quota of 100 vSensors.
Sensors over Quota
If the quota is maxed out when a sensor attempts to come online, the sensor will be given a message to go away for a period of time and then they can check again. A sensor_over_quota event will be emitted in the deployments stream as well enabling users to set up alerts and be notified about this happening. The amount of time sensors are told to go away for increases if they connect again and the organization is still over quota.
When will my credit card be charged?
Quota-based items are charged a month ahead, while usage items are billed the month following, similar to most cellphone invoices (or hosting).
---
Was this article helpful?
---
What's Next